Watch the awards ceremony
The competition winners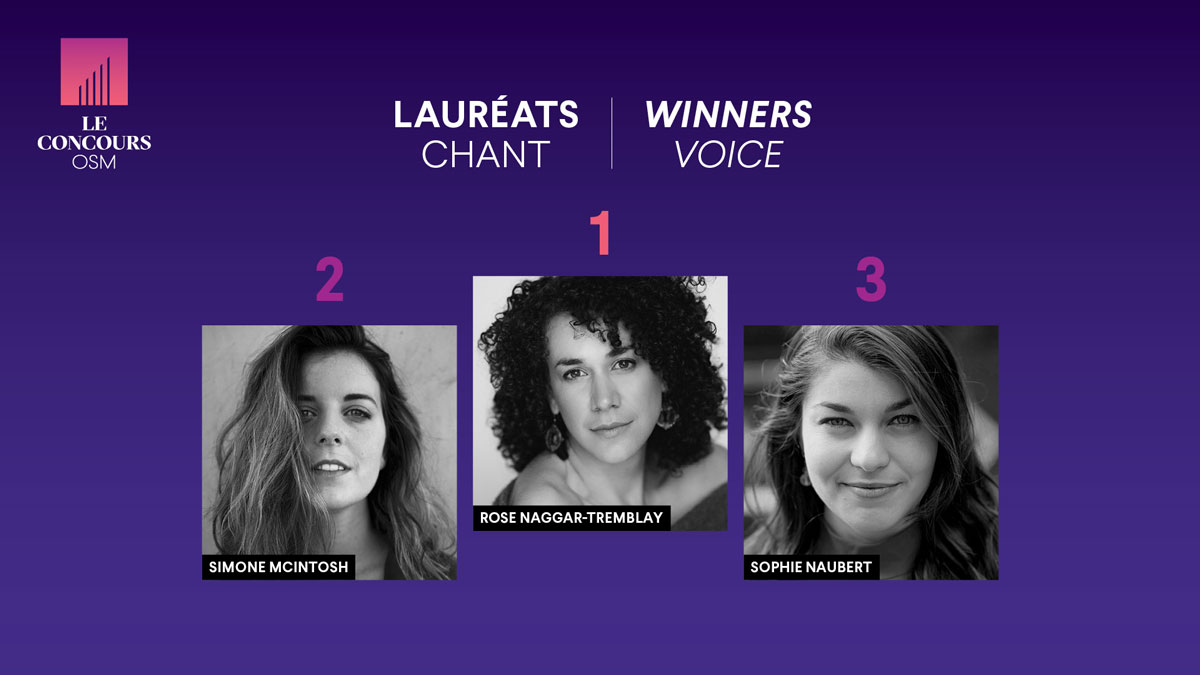 First prize:
A $5,000 prize offered by the Marjorie and Gerald Bronfman Foundation.
Michèle Paré prize
A $5,000 prize, to support the development of a professional career in music, offered by Mr. Jean Paré.
$5,000 prize offered by the OSM Musician's Association and the OSM Volunteer's Association
A concert with the OSM
With musical director Rafael Payare, on January 16, 2022, at the Maison Symphonique de Montréal.
ICI Musique prize
A professional audio recording in one of Radio-Canada's studios and the broadcast on ICI Musique.
Queen Elisabeth Music Chapelle prize (Belgium)
A residency at the Chapelle during the 2023 season under the tutelage of the two masters in residence José van Dam and Sophie Koch. This prize is generously offered with the support of the Ariane Riou and Réal Plourde Foundation.
McGill University – Schulich School of Music Scholarship
A scholarship covering tuition for a degree in a performance program at the Schulich School of Music of McGill University.
Second prize:
$5,000 prize offered by the Paul A. Fournier Foundation Fund.
Third prize:
$2,500 prize offered by Les Amis de l'Art Fund.
Complementary prizes
Prize for best interpretation of a Canadian work
A $2,500 prize offered by Mrs. Juliana Pleines is awarded to Rose Naggar-Tremblay
Lied-Melody prize
A $1,500 prize for best interpretation of a work composed for voice and piano offered by the OSM Volonteer's Association and the OSM is awarded to Simone McIntosh.
Stingray Rising Stars – Audience award
A $2,500 prize offered to the candidate who will get the most votes on the web is awarded to Geoffrey Schellenberg.
Domaine Forget Prizes
Three scholarships for an advanced training program at the International Music and Dance Academy at Domaine Forget are awarded to Sara Schabas, Sophie Naubert and Martina Myskohlid.
Orford Musique Prizes
Two scholarships for a two-week music session at Orford Musique in 2022 are awarded to Geoffrey Schellenberg and Carole-Anne Roussel.
V.E. Lambert prizes
$500 prizes for the 8 non-finalists candidates offered by the Lambert-Gagnon-Fortier Estate.
Finalist's prizes
$1,000 prizes offered to the 5 non-winning candidates.